Made of pine, oak or exotic meranti they attract the attention not only of those who have a taste for English style, but also of those who plan new investments in the classic style of a country manor. We are talking here about English sash windows, which are increasingly common throughout Europe. Customers above all appreciate their modernized operation based on the spring system (sash springs), functionality and wood aesthetics, which no other windows have.
We have already written about the operation of sash windows here:
How do sliding sash windows work?
In the following article we will say a few words about their functionality, and more specifically about the advantages and disadvantages of using a double active sash in sash windows.
Single or double active sash wing in sash windows?
The classic sash window has only one lower active sash, which can only be opened from below, while the upper sash is fixed to the frame. This is known as a single hung sash window. With time, in sash windows, an additional functionality was introduced, namely the ability to open also the upper sash of the window. In double hung sash windows both sashes move vertically in the frame and can often also be tilted inwards or outwards.
See how sash windows work:
Did you know that ...
A double hung sash window can have two sashes with completely different dimensions? These are the so-called cottage windows, which are often found in traditional English houses, especially in the countryside. They are characterized by the fact that the upper sash is smaller and the lower sash is larger.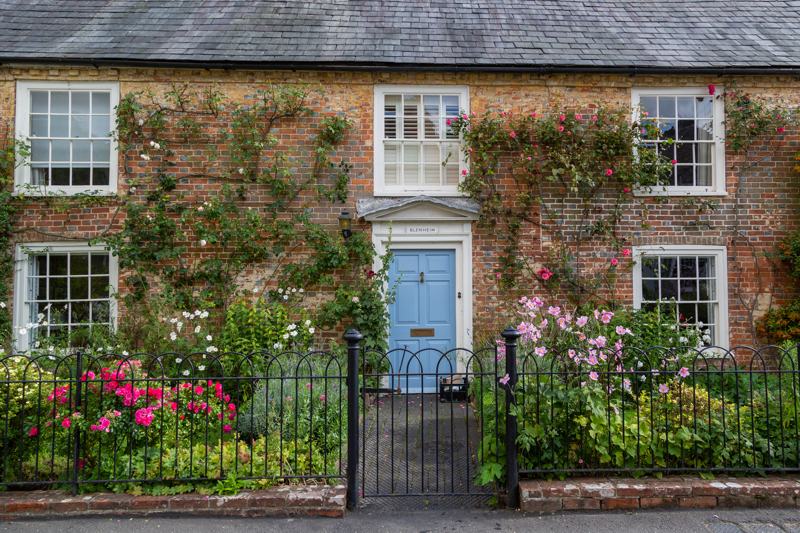 Sash windows with double hung sash in cottage window style
Advantages of double hung sash windows
Why are there two active sashes in sash windows? First of all, for more effective ventilation of the room. When the upper and lower sashes are half open, cooler, fresh air enters the room through the lower opening, while warm, stale air escapes through the upper opening to the outside. Thanks to this, rooms can be quickly and efficiently ventilated without having to turn on the air conditioner.
Another undoubtedly important aspect is the possibility to tilt the sashes inwards or outwards. Thanks to this functionality we can easily clean the outside glass panes without using a ladder or without dangerous climbing on window sills, especially on higher storeys of the buildings.
The increased security of double-hung sash windows is another convincing argument. At home, where there are small children or animals, ventilation through the lower sash is always problematic. All it takes is a little carelessness and a tragedy may occur. Thanks to windows with two active sashes you will effectively protect your house against such situations. It is enough to open only the upper sash for ventilation. The same applies to the possibility of breaking into the house through the window. With only the upper sash open and the use of movement limiters, such as ventlock, you will protect your home against the intrusion of an unwanted person.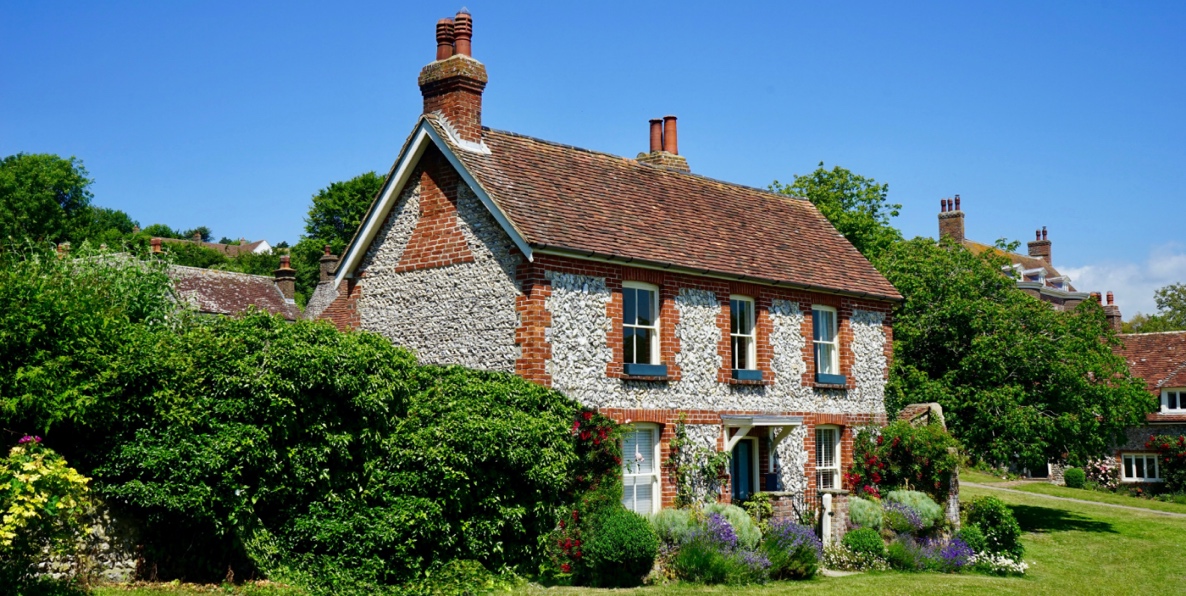 English country house with sash windows
Disadvantages of double hung sash windows
Sash windows with double-hung sashes definitely have more advantages than disadvantages, however there are also some that should be mentioned. One of them is a higher price, which is mainly due to a more complex fitting system. For double hung sash windows you will usually pay more than for traditional single sash windows. Furthermore, a more elaborate hardware system comes with the need for more maintenance and lubrication so that the hardware doesn't become stiff and rust over the years.
Many customers have doubts about the tightness of windows with double-hung sashes that swing outwards or inwards. This issue has been faced by system suppliers and manufacturers themselves. Modern sash windows are manufactured on the basis of the latest generation of hardware systems of reputable companies Caldwell and Roto, which guarantee the highest class and effective pressure of the sash on the window frame. Q-Ion Schlegel gaskets used in the sash windows effectively eliminate the formation of any thermal bridges at the contact between the frame and the window sash.
Functional and safe sash windows
The choice of windows for your home should ultimately depend on your own preferences. However, it is worth considering the functionality of the window systems and their safety.
Sash windows certainly meet the highest demands, especially in the double active sash option. They open upwards and downwards, thanks to which they remain on the same plane as the wall, so they are ideal where there are narrow passages from the outside or when you want to save space inside in the window zone. You can easily install a mosquito net on them. They have interesting accessories such as locks, handles and movement limiters, as well as wooden "horny" ornaments, which emphasize their uniqueness.
So if your taste is for stylish wooden windows and you're after practical solutions, sash windows with double active sash will be the perfect choice.
Contact us and order sash windows for your house!
Contact us