The day has come when you realise that your old sash windows won't make it through another repair and just have to be replaced. Are you searching the Internet hoping to find good solutions and a proven window supplier who can offer you both good quality and affordable price? Do you know that high-end sash windows can be bought cheaper outside your home market?
Manufacturers of timber windows from Poland are highly specialised in the production of English windows, including sliding sash windows. Do you still wonder, if it's worth importing windows from abroad? Read the article below and find out what makes the price of Polish window joinery attractive to residents of Western Europe and what opportunities modern sash windows from Poland provide.
Are sash windows from Poland of good quality?
For many years Poland has been the European leader in the production of windows and doors at competitive prices. Modern machinery and superior technological facilities definitely influence the high standard of products and the optimisation of the manufacturing process.
In the production of sash windows only the best quality, most environmentally-friendly, locally sourced raw materials are used coupled with fittings of well-known and reputable companies: Cadwell and Roto. Deliveries of these components are always on time and do not extend production times.
Discover how easily you can open our sash windows equipped with Sash Springs system:
Double glazed box sash windows
Polish sliding sash windows manufacturers use state-of-the-art methods of timber impregnation and varnishing, ensuring excellent protection and beautiful appearance of the wooden frames for many, many years. Double-glazed units filled with argon gas and 2 gaskets with extended lifetime provide good acoustic insulation and thermal comfort in the rooms. The use of a swisspacer increases its excellent thermal properties even further by eliminating thermal bridge. Strong profile structures made of three-layer glued laminated timber, a 156 mm deep window frame and modern fittings and accessories - all this makes modern sash windows functional, warm and safe.
Check out sash windows offered by Aikon Distribution: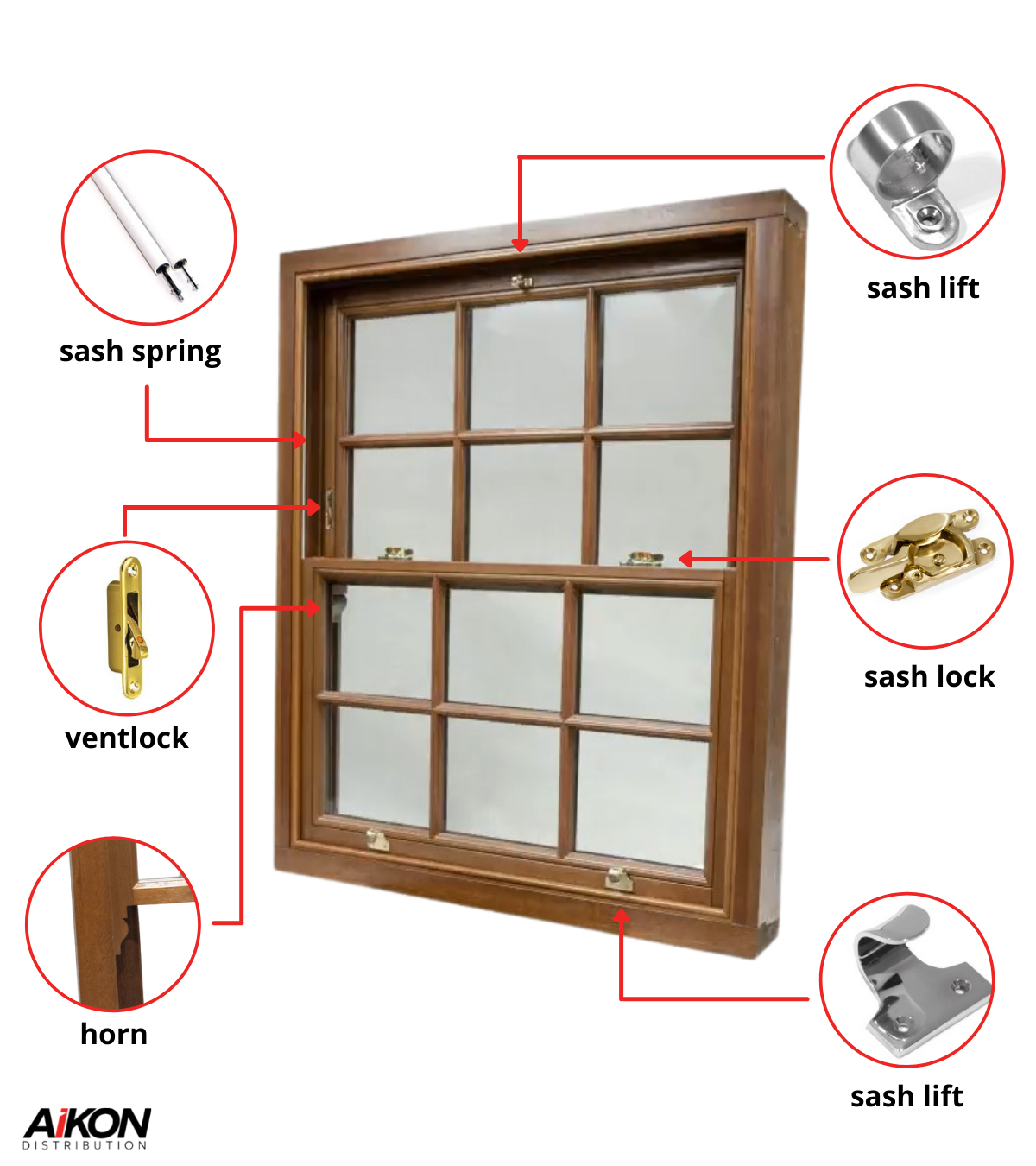 Sash window accessories
Box sash window price
Apart from durability, functionality and beautiful aesthetics, price is also important, especially considering the fact that when renovating or building a house or a flat you are probably looking for savings wherever possible. As the most expensive option, timber windows are also where the greatest saving potential is when you consider importing.
It is worth keeping in mind that the price of each window, not just the sash window, depends on many factors including size, type of components used for the construction, their parameters, additions, colour - and it is determined individually for each project. When choosing your windows don't only look at the final price. Always check and compare the specification of the windows to avoid unnecessary costs on maintenance or higher heating bills in the long run.
Polish sash window companies
How is it possible that sash windows manufactured in Poland are cheaper than those manufactured in Great Britain or Ireland?
This is due to the fact that despite the high qualifications of Polish workers, labour costs in Poland are still considerably lower than in Western Europe, which increases Poland's competitiveness on the international market. Even if we factor in shipping costs in the price of Polish windows and doors, the price is highly attractive to residents of the UK, France, Germany, and Italy.
Read the article on why it is worth importing windows from Poland and see for yourself:
Windows from Poland. Why it is worth importing windows and doors from Poland