Foggy window panes is the nightmare of many house and flat residents. This problem occurs especially in winter and spring-autumn, even with proper room heating. Condensation of aluminium window frames seems to be a relatively minor problem, but it can lead to other, bigger problems. Why are aluminium window frames particularly susceptible to condensation? How to prevent condensation on aluminium window frames? Let us check.
How to prevent condensation on aluminium window frames?
What problems can condensation cause?
Condensation on aluminium windows can lead to various problems. Long-term and repeated window sweating, as this is also called condensation, can cause formation of mould in and around windows as well as on walls. Mould, on the other hand, can lead to various health problems, can cause allergies and respiratory problems such as asthma and bronchitis. Condensation can also lead to other problems that affect the house. Plasterboard in the walls around windows is susceptible to moisture damage. Metal parts such as hinges and screws can corrode and window seals can be damaged. In addition, condensation on aluminium window frames can contribute to bad air quality indoors.
Aluminium window frames condensation
The windows available today are characterised by high tightness. This is by no means a disadvantage, as with tight windows you can save considerably on heating your house or flat. We often think that water vapour appearing on panes is a result of construction defects of the window or mistakes made during its installation. In reality, however, the phenomenon of condensation on panes arises even in the case of completely functioning and correctly installed windows.
It is worth noting where moisture is most likely to accumulate. If it is on the inside of the pane - the fault usually lies on our side. Perhaps we forget to turn on the hood when cooking meals, we dry too much laundry at the same time and avoid opening windows. On the other hand, window vapour on the external side is generally dictated by weather conditions and the location of the building. This occurs especially if you live near a waterbody or if there is a lot of vegetation right outside your window, which collects moisture from the air.
How does the condensation forms on aluminium window frames?
When the temperature outside the windows drops and inside the rooms is increased by heating, the window panes may react with the so-called sweating, i.e. formation of water vapour condensation on them. Condensation occurs when warm, humid air in a room collides with a colder surface. Glass can be one of the coldest materials in the home and attracts excess water vapour. The air temperature combined with the humidity level determines the temperature at which condensation will occur. This is called dew point.
This phenomenon can be aggravated during rainy weather and as a result of normal household activities, such as cooking meals, drying laundry in the flat, taking long baths, etc.
In some situations, traditional gravity ventilation may prove insufficient, which is inseparable from the need to support its existing operation.
When it comes to aluminium window frames, window sweating is a natural occurrence because aluminium is a metal that tends to transfer both heat and cold easily. When the temperature outside drops, the heat inside the conditioned space escapes through the aluminium windows and the window frame becomes colder. As warm indoor air comes into contact with cold window frames, the drop in temperature causes moisture to be released.
How to prevent condensation on aluminium window frames?
As we learned above, the dew point is the result of contact of warm, moist air with colder surfaces. To prevent windows from sweating, reduce the percentage of humidity so that the dew point is lower than the surface temperature. This can be achieved in several ways, including using a dehumidifier or keeping the house warm all the time. Although this is not always possible, you can balance the temperature by setting thermostats in different parts of the house to the same value.
Bathrooms and kitchens are major sources of moisture in the home. Letting excess moisture out through vents and/or extractor fans can help prevent condensation on window frames, creating a drier atmosphere. What's more, using kitchen fans while cooking is even more effective if you leave them on for an additional 15-20 minutes after you have finished cooking. Similar practices should be applied in the case of bathroom vents or fans for maximum efficiency.
Window vents
Installing a window vent on the top window frame is also one way to reduce humidity in your home. Its primary task is to bring fresh air into the room. On the other hand, gravity air ducts remove used air. In theory, such a set (vent plus air ducts) should provide efficient ventilation throughout the entire house. Window vents can be purchased together with windows or purchased and fitted to existing windows.
You can read more about window vents here:
Window trickle vents: yes or no? Hints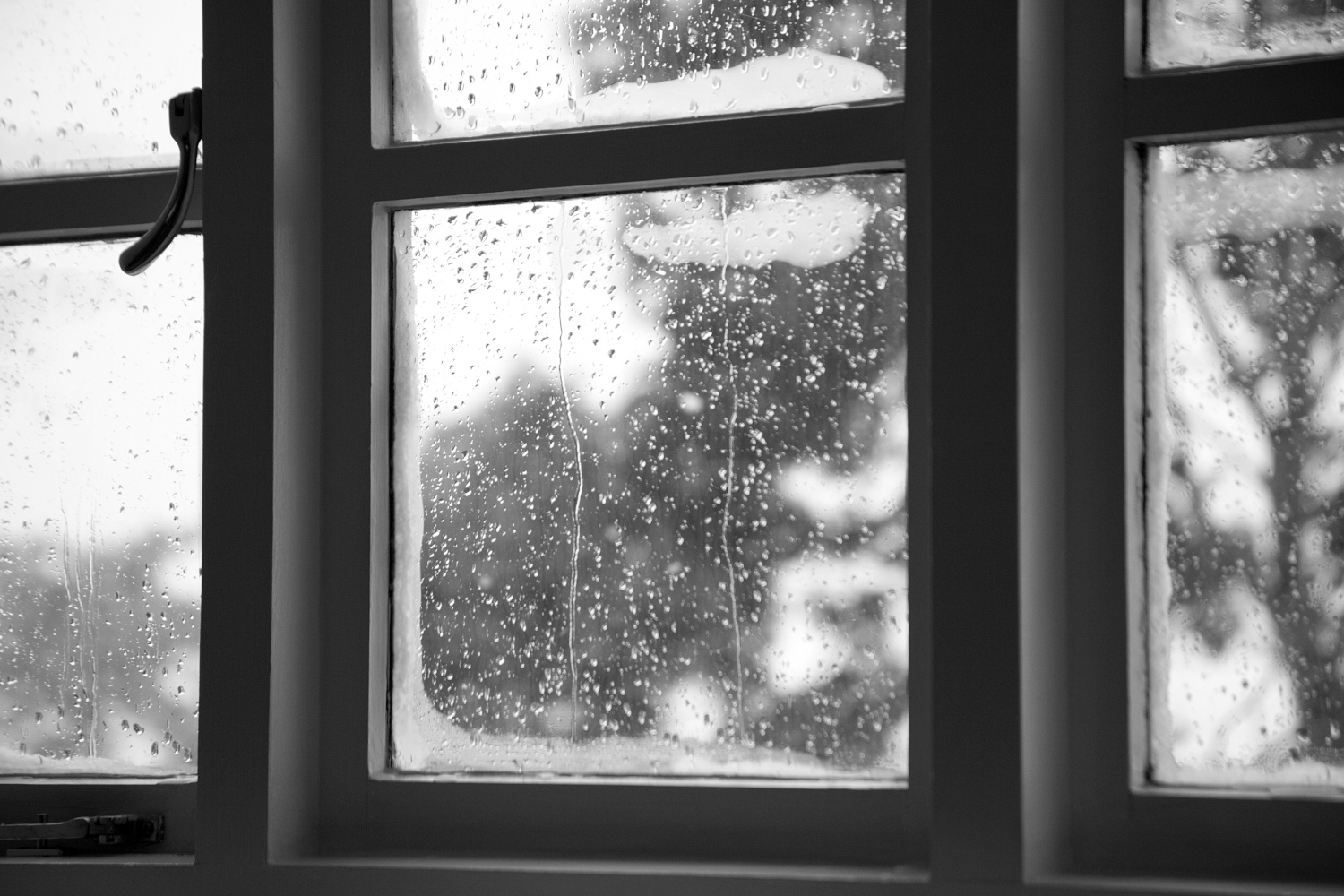 Condensation
Condensation on new aluminium windows
Modern aluminium windows are light years ahead of their inefficient counterparts of previous years. The introduction of polyamide thermal break systems means that the inner frame no longer transmits heat to the outer frame, creating cold surfaces that are susceptible to condensation.
Not only that, but the aluminium frames are also very eco-friendly. This is because they can be recycled an infinite number of times, and the energy required to recycle and reuse them is only 5% of the energy needed to initially create the metal. This is an important issue in these unstable times for the environment.

Check out our range of aluminium windows
Aluminium windows from Aikon Distribution
Aluminium windows are ideal for use in flats and single-family houses. We can install classic sized windows as well as large panes. Such panes are perfect for modern buildings - aluminium windows beautifully emphasise simple, minimalist shapes of houses.
At Aikon Distribution, the purchase of aluminium windows as well as all joinery is made online. Above all, this method gives you the opportunity to find out exactly what the market has to offer and to choose the best solution. Additionally, when buying aluminium windows, you can combine them with roller shutters, venetian blinds or insect screens. And all this without leaving your home.
Are you interested in buying aluminium windows? Contact our sales representative.