A garage is not just a place where you keep your car, it is also a space where we gather the various things we need. We use it several times a day, so the safety and comfort of its use are very important. This is what automatic garage doors will provide us with and today we will say a few words about them.
Automatic garage doors
Automatic gates are a great convenience that garage owners are more and more willing to use. It is comfortable, practical and makes everyday life so much easier.
Advantages of automatic garage doors
Convenience and time saving
The first advantage is, of course, the convenience and comfort of use. On the way to work, you don't have to worry about whether you've closed everything properly in a hurry, because the automatic garage door takes care of closing it properly for you. And if you can synchronise the garage door and the entrance gate (which is possible), you will save time and gain enormous comfort.
Safety
Properly installed automatics in the garage door will protect us from unpleasant incidents - preventing the door from hitting us, our children or our vehicle. This is because overload switches, which react immediately to pressure or resistance, will reverse the door as soon as an obstacle is detected.
Reducing the risk of robbery
The second aspect related to the safety of automatic garage doors is also worth mentioning. Doors equipped with a drive are much more difficult to break in by potential burglars. This is because they are much heavier and have electronic protection against lifting.
As with all advanced technological solutions, nothing ever is faultless and there is always a risk of a fault or breakdown. Therefore, it is extremely important to properly maintain the entire automation by regularly lubricating the moving parts of the door. It is also important to remember to have inspections carried out by qualified personnel.
However, a power failure will not be a problem. Each automatic drive is fitted with a manual release lock, allowing the drive to be shut off and the entrance to be opened manually.
Modern garage door control systems
RTS radio technology
The RTS (Radio Technology Somfy) control system is a proven and comfortable solution. It is used in modern construction, not only in the automation of garage doors, but also entrance gates and window guards such as venetian blinds or roller shutters. Its main advantage is that a single remote control can operate the gate even from a considerable distance.
METRO DRIVE
The new generation METRO drive is used for sectional and up and over doors. It has exceptional technical parameters enclosed in a designer and minimalist enclosure.
Included in its key features and functions are:
overcurrent obstacle detection (the overload protection stops the door leaf in the case of contact between the bottom edge of the leaf and an obstacle and then pulls it back upwards)
chain rail equipped with a soundproofing system
option to connect photocells
option to connect alarm siren
option to connect emergency power supply battery
RTS RF path (allows drive to be remotely controlled)


METRO RTS drive
MOTO DRIVE
The MOTO drive enables remote control using transmitters and it makes it possible to connect photocells, an additional external lamp, and manual control button. Thanks to the option of adding a backup power supply battery, the drive unit can also be operated in the case of power shortage.
Key features and functions of MOTO drive:
easy to program
OVERCURRENT OBSTACLE DETECTION
RTS radio TRANSMISSION
INTEGRATED LIGHT
OPTION TO CONNECT PHOTOCELLS
OPTION TO CONNECT AN ADDITIONAL EXTERNAL LAMP
You can read more about RTS technology on our website:
Somfy IO technology
The modern IO - Homecontrol control system from Somfy allows you to control your home devices via Internet, via computer, tablet or smartphone.
METRO SMART IO
It's modern, safe and reliable radio technology, io-homecontrol, allows you to connect your METRO IO operator to Somfy's TaHoma and Connexoon systems, giving you additional functionality, connecting your garage door to other smart devices in the home.
Key features and functions of METRO SMART IO:
easy programming - leds and many parameters can be configured,
optical protection system - the system provides optimum protection in the event of an obstacle appearing between photocells,
overcurrent obstacle detection,
Silent rail with a chain or cogged belt - ensures quiet and smooth operation,
emergency power supply battery - it allows to operate the door in case of power failure,
integrated flashing light
mechanical burglar lock - locks the door in the closed position, prevents unauthorised opening of the garage door.
More:
Garage doors with drive
Wireless opening and closing technologies can be used in sectional, up and over and roller garage doors. We can buy a door already equipped with an automatic system or purchase one for a previously installed door. If you decide to add remote controlled drive to your existing door, you should first assess it's current condition. Primarily the general technical condition and structural strength. The strength of the hinges, whether there is any deformation and whether the leaves do not overlap each other or the fence. Whether the door opens correctly, smoothly and without interruption. And also, importantly, the possibility to run electrical cables close to the gate.
Read also:
Enter the garage - review of garage doors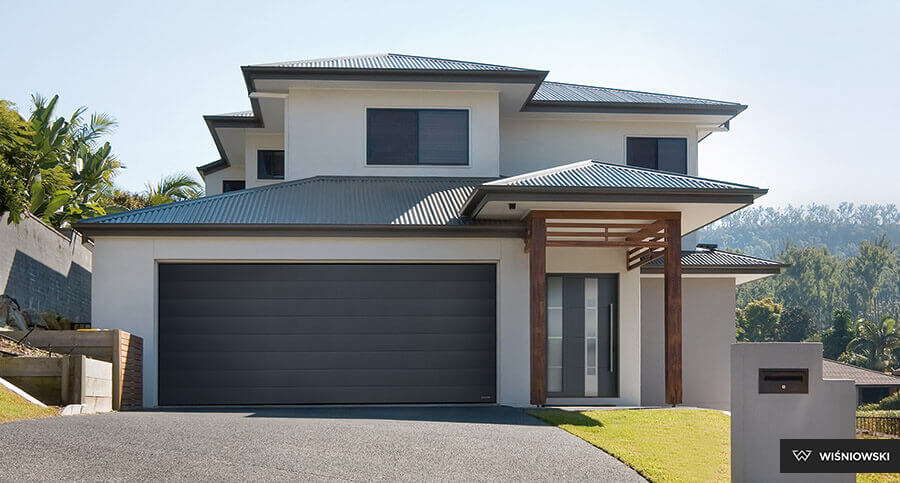 Sectional garage door by Wiśniowski
The use of automatic garage doors has practically become a standard today. They provide security and comfort and make closing and opening the garage quick, easy and pleasant. Importantly, it is never too late to install automatic garage door drives. You can buy a new door originally equipped with an automatic drive, but you can also equip a door that has already been in use for a long time with one.
Read also:
Choosing motor drive for garage door?
Smart home - Control system: Tahoma Somfy
Are you interested in buying a garage door? Contact our expert who will be sure to advise you on the best door for your project.