The choice of the doors should be determined primarily by the place of installation. This will also determine their features which are worth paying attention to. In the case of external door, durability, thermal insulation, soundproofness, safety and aesthetics are important. Which door should you choose - aluminium or uPVC? What are the advantages and disadvantages of both solutions? What should be taken into account when choosing them? We will try to explain the characteristics of both materials, which will certainly help in making a decision.
Are aluminium door better than uPVC?
Advantages of aluminium door
Aluminium door primarily combine durability and strength with relatively low weight. They do not deform and do not bend. They also have excellent strength parameters and are considered as an effective anti-burglary barrier. Aluminium door are also a good barrier to cold and noise penetrating the interior. The technologies used to make aluminium door make it possible to obtain a low heat transfer coefficient. Some of them make it possible to obtain parameters allowing to successfully use them in passive construction.
When evaluating aluminium door, we should also not forget about their aesthetic qualities. Their modern look and the possibility of creating truly original solutions are appreciated. For lovers of more traditional materials, there is also the possibility of using thermo-printing technology to make the door look like those made of timber. Aluminium door can be painted in a variety of colours, thanks to the powder coating and anodising processes, creating an original and unique effect not found in other types of joinery.
View our offer of aluminium door: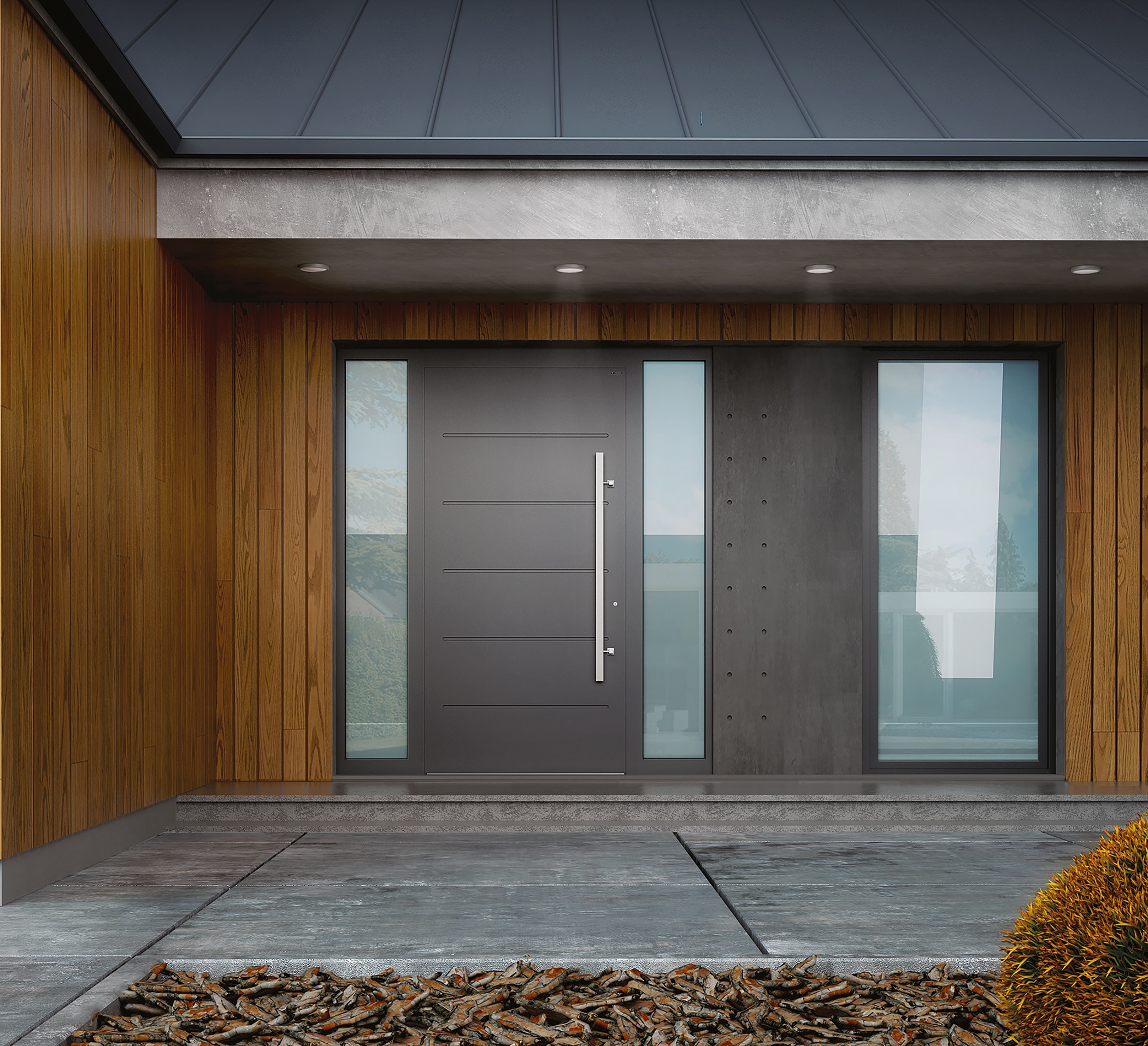 Aluminium external door
Aluminium door have relatively few disadvantages. Some people point to aluminium's susceptibility to scratching and other minor mechanical damages. Modern aluminium entrance door largely solve this problem as they are manufactured from high-quality aluminium, on which traces of use and minor damage are almost invisible.
Secondly, aluminium door can be slightly more expensive than uPVC joinery. However, if we consider their durability, we can see that an investment in a more expensive door should return over time.
Aluminium or uPVC door?
Advantages of PVC door
uPVC door, although less known than windows, are also often chosen by flat and house owners. The reason for that are numerous advantages of this material, thanks to which products made of it are characterised by features valued by purchasers.
Among the advantages of uPVC door it is worth mentioning:
low price compared to timber or aluminium door
very good thermal insulation parameters,
very good soundproofing properties,
durability and resistance to weathering,
easy to keep clean (although they attract dust particles, they can be cleaned with water and ordinary cleaning agents),
no need for special maintenance.
See our uPVC door offer: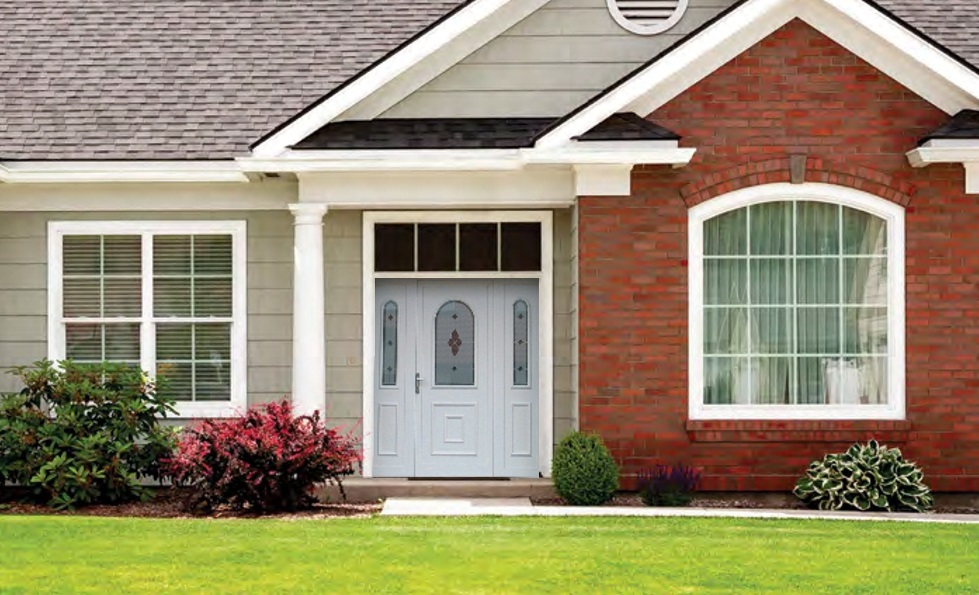 uPVC entrance door
As we mentioned, uPVC door are currently being bought more and more frequently. And for good reason. In the case of standard application in single dwellings they have no disadvantages that could disqualify them. However, there are some opinions that PVC door may deform under the influence of high temperature, especially if they are covered with dark colours. However, if their installation is carried out very carefully and the door have the recommended roofing, the problem should not occur. The same with the low level of rigidity of PVC door. It is enough if they are equipped with additional, thicker steel reinforcements in the profiles, anti-burglary bolts and multi-point locks and they effectively protect the house against burglary. So if our uPVC entrance door are not seriously damaged, they will serve us for many long years in impeccable condition.
uPVC or aluminium door
Basic differences
Private houses and public buildings
uPVC entrance door are recommended for private residential purposes as entrance door to one-family houses, flats or additional entrance door to social and economic rooms. uPVC is a durable material, however it is not as rigid as aluminium. This is why only aluminium door are recommended for public buildings. We are talking about workplaces, shops, showrooms, etc., where the number of daily cycles of entry and exit can often reach up to a thousand. During the entire period of very intensive use, only aluminium is able to meet the durability requirements.
Shapes and dimensions
An uPVC door sash is quite heavy, as it requires internal reinforcements to rigidify the structure. This means that in the case of larger door uPVC simply won't work, because after a few years the sash may start to "settle". Aluminium is lighter and in case of bigger door it is recommended to use this material. When it comes to untypical shapes and dimensions of the door, aluminium has an advantage here.
Door panels
Aikon Distribution offers many door panels in both aluminium and uPVC with excellent durability and a wide range of decorative options. This ensures that anyone who is interested in buying a door can find a panel to match the architecture of their building.
See our door panels offer:
Aluminium door vs uPVC door
Choosing a door for your house or flat, regardless of whether it's external or internal, is a very important decision. It is important to pay attention to many technical details, as well as to make sure that the door is a perfect complement to the house arrangement. It is difficult to say which models will be the best - Aluminium or uPVC door. It all depends on the customer's preferences and their destination.
In Aikon Distribution, we take an individual approach to every order and help you determine what solution will work for your project. Whether you are interested in uPVC or aluminium door please contact our sales team who will be sure to provide expert assistance.