Aikon Distribution's wide range and high quality of products allow our windows, doors, roller shutters and garage doors to be ordered by individual and commercial clients. Our windows and doors range have been successfully used for variety of projects such as bigger multi-family buildings, self-build projects and mid-scale developments.
Aikon Distribution - a reliable partner for large investments
Aikon Distribution is a reliable and recommendable partner for large investments. In recent years, our windows and doors have found their place into many prestigious construction and renovation projects in various European countries. We have implemented projects in modern construction and created solutions for historical buildings. Our extensive experience in cooperation with architects and designers is therefore a guarantee of effective implementation of the most sophisticated projects.
Aikon Distribution recent projects involvment
Multi-family housing, apartments in Farnborough, UK.
Our aluminium windows and doors were installed in a residential building on one of the elegant estates in the town of Farnborough in the UK. Tilt and turn, fixed aluminium windows and doors based on Aliplast Imperial and Imperial 800 profiles, doors (including Aliplast Panorama bifold doors) and glass balustrades were used to complete the project.
See Aliplast aluminium products used for the project.
Apartments in London
We manufactured and supplied windows, doors and curtain walling elements for an entire newly constructed residential building in London for our client. Aliplast Genesis and Superial aluminium profiles were supplied.
The products used for the project:
Hospital in Gibraltar
A mid-scale project we have recently been invited to participate in was a completion and delivery of automatic sliding doors and curtain walling elements for a hospital in Gibraltar. The sliding doors were made from the Aliplast Superial profile, while the curtain walling was based on the Aliplast MCWall system.
Multi-family housing, apartments in Royston.
We supplied outward opening windows, fixed windows and doors for a newly constructed multi-family building in Royston, Hertfordshire. All windows and doors were manufactured using aluminium Aliplast Imperial OUT, Imperial and Imperial 800 profiles.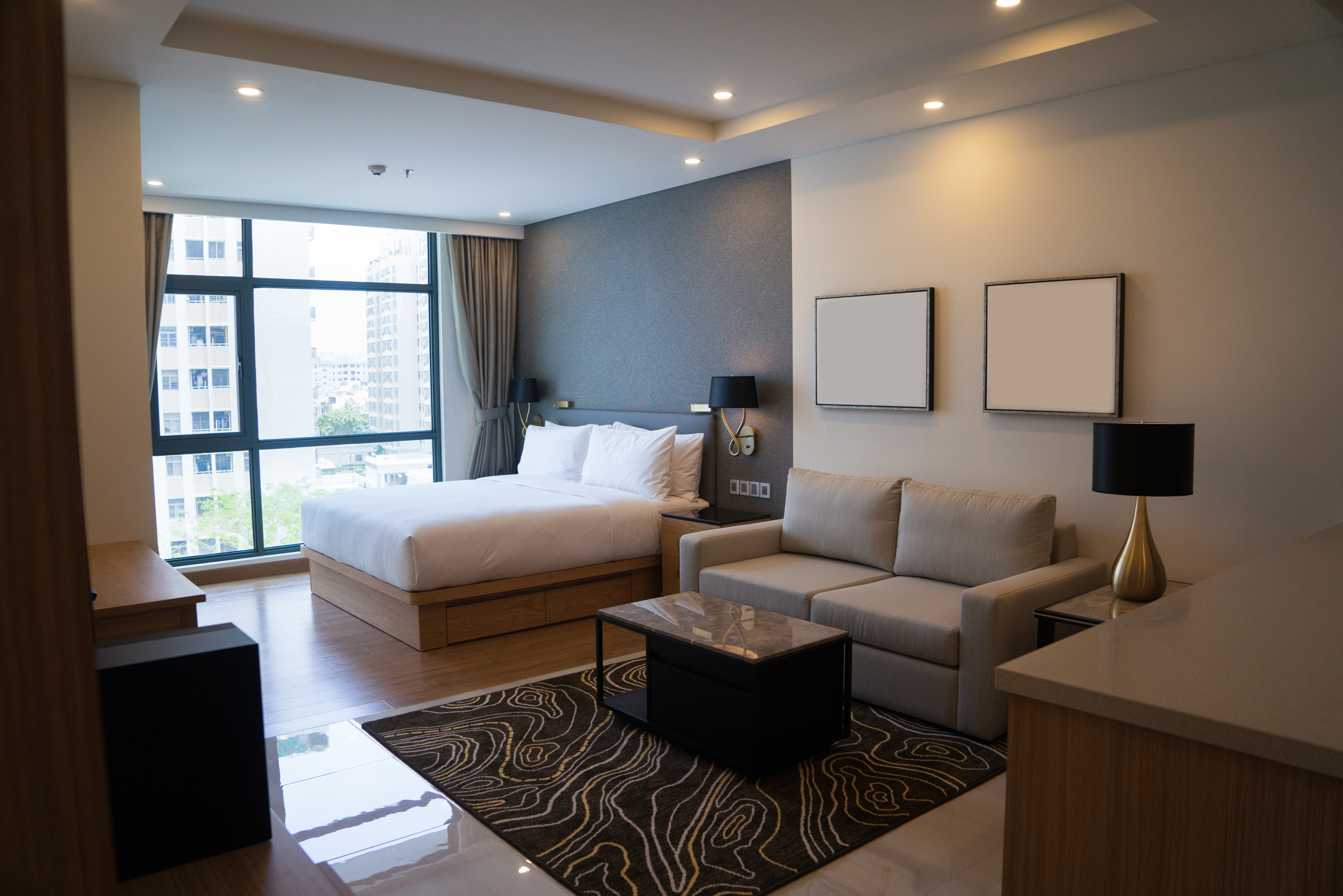 Hotel room with aluminium windows from Aikon Distribution
Only trusted solutions
Advice and support
We provide top quality service and advice at every stage of the order in the language chosen by the client. Based on our knowledge and experience we respond to the needs of our client. We provide architects and contractors with professionally prepared technical documentation for their projects.
Read also:
Full package for our customers!
Experience
Since 2009, we have been supporting individual clients, architects and architectural offices, specialists and contractors in a professional manner. We take part in various windows and doors projects across the European market.
Polite and helpful
Our business approach has always been full of respect for people and the environment, promoting pro-ecological attitudes in our everyday work. We know perfectly that it is our duty to respect the natural environment and take care of nature. Therefore, we want to consciously care for the environment and promote the idea among our clients.
Read more in our article:
Quality
We guarantee the highest level of our products and services: high standard of Polish windows and doors, quick completion of all orders and delivery to the address indicated by the client.
Wide range of windows and doors products
Our clients can choose from the widest selection of windows and doors available at one place. We have the widest range of uPVC, aluminium and timber windows on the market, front doors, roller shutters, venetian blinds, insect screens, glass balustrades and even garage doors.
See our offer in the "Products" section:
Read also:
Buying windows in Poland pays off
Would you like to cooperate with us? Are you looking for a windows and doors supplier for your investment? Do you need expert advice? Get in touch with us.